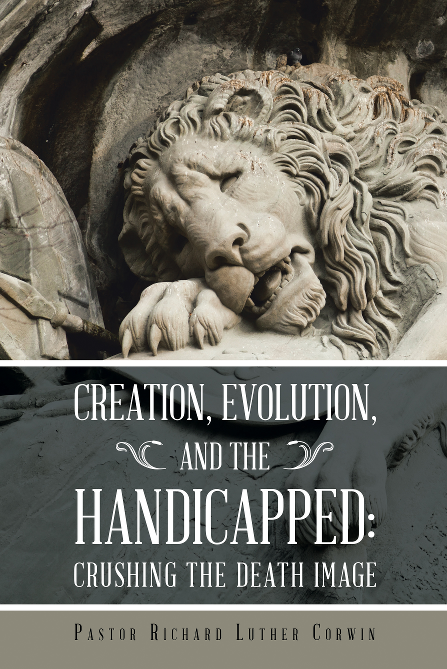 Creation, Evolution,
and the Handicapped:


Crushing the Death Image

---

a book by
Pastor Richard Luther Corwin
---
You can buy the book now from:
Creation, Evolution, and the Handicapped

Crushing the Death Image
---
"...I found it to be well-written, thought-provoking and biblically-based. It is an insightful refutation of Evolution and its consequent pagan impact on respect for the sanctity of life. A job well done!"

-Dr. David R. Reagan, Lamb & Lion Ministries, host of the tv show "Christ in Prophecy."
---
The Church needs to renew its commitment to the Biblical God of Genesis and the apodictic certitude of the Gospel of Christ. It must reject theological accommodation with the most powerful religion on Earth, "evolution." The battle being fought is a battle of worldviews, a war, between two religions, that will cost us our souls and our children. Are we lost in a random chance universe or are we designed in the image of God? How we answer that question will not only determine our place in a secular world, but it will determine our spiritual destiny.
---
Joni Eareckson Tada and Stephen Hawking are two talented individuals that attract the admiration of everyone. They have clearly overcome profound handicaps that were the result of different, yet tragic circumstances. Their philosophies of life are diametrically opposed. Joni would be considered a Bible-believing evangelical, while Stephen Hawking is a proudly committed atheist. Both Joni and Stephen have made a decision concerning the nature of truth and the ultimate reality of existence. What is it about them that gives them a sense of value and meaning in life? Why would one give praise and glory to the God of Creation and the other dismiss His existence with prejudice? The answer lies in their worldview.
---
Pastor Richard Luther Corwin is a graduate of Western Illinois University with a BA in philosophy. He has a MTh from Harding Graduate School in Memphis and recently graduated in 2015 summa cum laude from the Institute for Creation Research in Dallas, Texas, with a MCed in apologetics. Pastor Corwin has served Union Christian Church in Central Illinois for twenty years and participated in short-term missions in England in 1978. He and his wife participated in a short-term mission trip to Israel in 2010 sponsored by Zola Levitt Ministries. Pastor Corwin has written articles for the Christian Family Magazine and Disciple Renewal with emphasis on ministry to the handicapped and Christian apologetics.